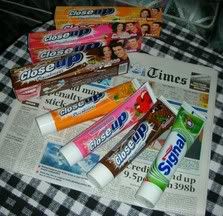 June 16th 2006
Budaiya
Was doing my usual friday grocery shopping at Jawad this afternoon, when I chanced to see the new close ups on the shelvings. I saw the advertisement on tv and it looks cool. Was just wondering if the products were as good and fun as what was shown on tv.
So I grabbed all three flavours... Choco Loco, Tangerine Burst and Luscious Lychee.
I have tried fruit flavoured toothpaste before ... ( for children...!!!)
and chocolate flavoured toothpaste ? I keep asking myself, how does it feel to brush your teeth with chocolate ?
Well... if you wish to stop eating chocolate... you can try this toothpaste. I feel like throwing up.
If the choco Loco is anything to go by, the other two... I guess..there goes the toothpaste down the drain...!!!
But the apple flavoured toothpaste is much better.
The moral of the story is ... advertising did play a role to influence buyers.
If you are lucky you get a good product. If not consider it as a donation. At least you had it and you dont need to wonder if it is good.
You win some ... you lose some ...