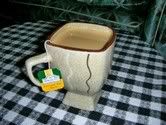 June 11th 2006
Budaiya
Everyone has their own version of comfort food... one that soothes our nerves... calm us down...and make life worth living...!!!
My favourite is tea. I have one every morning. And another as and when I need one...!
I take my tea with milk and a little sugar. Has to be with fresh milk/cream or evaporated milk.
I like the other variety as well, like the ginger tea, the masala tea and the ever popular "teh tarek" ( I really missed teh tarek...!!!)
The sidekicks to my favourite tea would be hot currypuff/samosas, chocolate cakes ( another of my favourite - has to be moist chocolate cake...!)